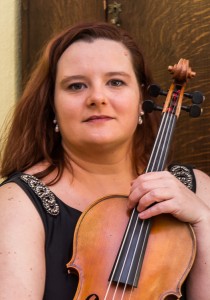 Guyonne Le Louarn, AVCM, BCRMTA, Paris CNR alum, RCM certified teacher.
     Born in France in 1975, Guyonne Le Louarn began to study violin at the Rennes' CNR. She moved to Nantes at 16 to switch to viola in 1992 and went on to study chamber music, theory and history of music, orchestral work and conducting in Nantes and simultaneously at CSParis earning multiple gold medals in all disciplines. Meanwhile she earned a degree in Early Music in Nantes. In 1998, she won the Paris Interschool competition summa cum laude and was a finalist at the National Viola Competition in Epernay in 1999. In 2000, Guyonne moved to Toulouse in the CEMS' soloist program, receiving the "Aida foundation scholarship for Young Musicians". She was also principal viola of the CEMS's chamber orchestra performing extensively in Europe and as far as Oman.
 In 2001, Guyonne moved to Victoria where she received an AVCM diploma in viola and violin and a specialization in chamber music coaching at the VCM followed by her RCM teacher certification for all levels in both viola and violin.
Guyonne won numerous awards at the Greater Victoria Performing Arts Festival (GVPAF) in 2002 and 2003 and represented Victoria at the Kamloops Provincial Festival in 2003. She studied with O. Mougeat, A. Quivooij, J. Coupé, D. Binder, T. Adamopoulos, C. Dauphin-Roth, D. Mujica, B. Godhoff and D. Vann. Guyonne has performed in France, Spain, Portugal, Italy, England, Ireland, Oman, the United States and Canada. Since her arrival in Canada, she has held several teaching positions in violin, viola and chamber music in the Greater Victoria Area and the Cowichan Valley. She is the founder and director of Maggie Music LLP, is on faculty at the Victoria Conservatory of Music and is the section head of the GVPAF Strings section. She is the assistant principal viola of the Vancouver Island Symphony Orchestra and is a chamber musician and freelance recitalist.
For the past 30 years, Guyonne teaches Viola, Violin, and Chamber Music to students of all ages and levels both in English and French.
Guyonne plays a modern viola by Francois Denis and a Michael Vann bow

PLEASE NOTE GUYONNE IS TAKING REGISTRATIONS FOR 2024-2025 NOW.
2023-2024 is full except if you want and can take lessons in the mornings/early afternoons.